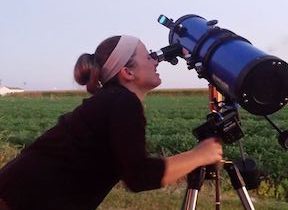 Diversity Committee, Bloomington, IN
Fall 2020
Member of the newly created Diversity committee in the IU Astronomy Department. Focuses on investigating methods to increase the diversity of the department. Currently working on an end of year survey to understand how students feel about the inclusivity of the department.
Bartholomew County Public Library, Columbus, IN
November 2019
Utilizing a simple circuit, I presented an experiment for adults and children to learn about electric potential and Ohm's Law.
December 2019
Lunar phase activity with Oreo's and observing the Moon threw an 8-in reflector telescope.
Kirkwood Observatory, Bloomington, IN
2019 - 2020
Co-host public observing nights on 12-inch refractor for the local community. The moon, planets, and a few Messier objects are the main objects viewed. Typical attendance is approximately 60 people per night.
Science Festival, Bloomington, IN
2017 - 2020
Participate in annual outreach science festival that provides hands-on science activities for children. Duties have included making comets, welcoming families into Kirkwood Observatory, and asking children questions about the Solar System.
Solar Eclipse, Nashville, IN
Summer 2017
As part of an all-day Saturday event to engage children in the sciences, I and two colleagues explained the Solar System and how solar eclipses work to seven groups of 20 young elementary school children.
Bloomington, IN 2017
I and two colleagues explained the solar eclipse to 20 middle school students as part of a classroom visit.